General information on SMD-10 WADER rotary crusher
The presented equipment is impact-type crushers, the destruction of pieces of crushed material is a result of beaters blows which are rigidly fixed onto the rotor.
Crushers of this type are distinguished by a high degree of crushing, high productivity, low energy consumption, simplicity of design and reliability.
SMD-10 WADER rotary crusher is designed for medium and fine crushing of metallurgical slag, limestone, dolomite, marlstone, marble, gypsum, low abrasive ores and other similar materials, the tensile strength of which does not exceed 600 kgf/cm2, and the size of pieces – 350 mm.
In addition to direct crushing, the rotary crusher of this model can also be used as a dynamic granulator, which allows enrichment of rocks in shape and strength due to destruction of weak inclusions without weakening the structural strength of the target product.
Great productivity, the possibility of producing fractionated cube-shaped materials, low energy load and no need for a huge foundation make it possible to use SMD-10 WADER rotary crusher as a highly efficient unit for primary or secondary crushing of solid materials of various origins.
Application of crushers of various types
Crushers
Crushing
Material strength
Coarse
Medium
Fine
Low
Medium
High
Cone
+
+
+
-
+
+
Rotary
-
+
+
+
+
+
Hammer
-
+
+
+
+
-
Specifications for SMD-10 WADER rotor crusher, DR 1500 4x4 type
*

Capacity of the crusher in processing of a particular type of material may vary depending on the physical and mechanical properties of this material

Parameters
Unit of measurement
Parameter value
Dimensions (L×B×H) (L×B×H)
mm
1800×933×1520
Weight
kg
1330
Rated power
kW
11
Linear speed of rotor beaters
m/s
26
Length and diameter of rotor with installed beaters
mm
400/500
Dimensions of discharging window
mm
430х420
Dimensions of loaded material, max.
mm
380
Capacity
t/h
12*


Configuration and operating principle
Impact crushing is a dynamic process. In SMD-10 WADER crusher, three stages of kinetic crushing are carried out at once. The first stage begins at the moment when the rotor beaters hit the crushed material. The second stage of crushing is carried out in the collision of pieces with deflector plates. The third stage is performed due to collisions between particles of crushed material.
The working elements of SMD-10 WADER crusher are: a large rotor (1) with impact elements (beaters) rigidly fixed on it (2) and deflector plates (3).
The fractional composition of the crushing product, which depends on the size of the gap between the circle of rotation of the rotor beaters and the deflector plates, is controlled by a multifunctional device for maintaining the given crushing force, combined in spring blocks (4). The crushing product is discharged from the crusher body by an inclined plate (5).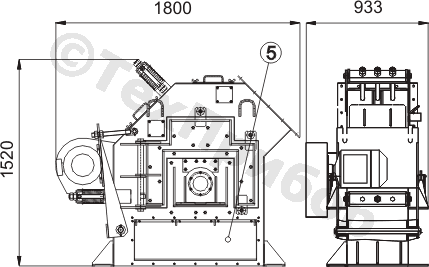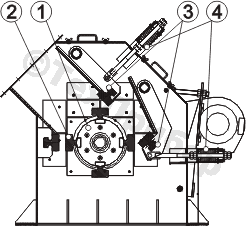 Advantages
SMD-10 WADER rotary crusher has a simple, but at the same time very rational design, each element is thought out to the smallest detail and works for increasing crushing efficiency, simplifying maintenance, and reducing the cost for operation of the equipment.
To achieve these goals, MP TECHPRIBOR used a number of unique technical solutions.
A short list of the main advantages of the new rotary crushers approves the abovementioned statement:
The impact elements are double-acting – to reduce the cost of crushing
The original beaters of SMD-10 WADER crusher have not one, but two working faces, which allows restoring the selected crushing parameters by simply turning the impact elements. This technical solution made it possible to significantly increase the service life of crushing tools due to a more consummate use of metal beaters. Now their replacement can be carried out two times less than in other models of equipment with similar purpose.
Installation of rotor impact elements and deflector plates – as quickly as possible – without bolts and nuts
It is not a secret that the actual capacity of crushing equipment is seriously affected by the complexity and high labour content of maintenance, the need to keep in stock a diverse range of crushing tools, protective armour, etc.
It is also not a secret that the fastening of crushing elements requires a very attentive approach. Often, threaded joints become difficult to detach after processing several tons of stone materials. That is why nuts are not used to install the impact elements in SMD-10 WADER rotor crusher. The beaters are simply inserted into guides and are kept from axial displacement by special locks. Due to this, the turning or complete replacement of crushing tools may be produced within 15-20 minutes by one person without lifting mechanisms.
To reduce the time for maintenance or waiting for the delivery of replacement parts, the rotor beaters and deflector plates are the same size, and 90% of the body armour elements are completely interchangeable.
Wide swing door – for inspection and maintenance to be carried out in the shortest possible time
In order to reduce downtime, the maintenance points of SMD-10 WADER crusher are organized in such a way as to make repair and maintenance work as simple, convenient and quick as possible.
A wide swing door is made on the side plate of the crusher body, by opening it you can get access to absolutely all the components and parts of the crushing chamber for inspection, revision or replacement.
Devices for maintaining a given crushing force, combined with spring safety blocks
During operation of the crushing unit in a quarry, there is a possibility of foreign particles (for example, excavator teeth) getting into the crushing chamber, which cannot be crushed anyhow. Protection against breakdowns of the rotor crusher is provided by the unloading system of uncrushable inclusions, which automatically removes foreign objects from the crushing chamber.
In SMD-10 WADER crusher, the unloading system is combined with a device for maintaining a given crushing force, which allows immediately after removal of an obstacle returning instantly to the selected crushing parameter settings.
Comprehensive support before and after the sale
As a developer and manufacturer of equipment for the processing of stone materials, MP TECHPRIBOR is capable to offer customers not only standard solutions, but also to develop and manufacture unique equipment that fully meets the production and process requirements of a certain enterprise.
Regardless whether SMD-10 WADER rotary crusher is used as a separate unit or it is integrated into the crushing and screening complex, each model is provided with comprehensive services and maintenance support, which starts already from the moment of analysing customer needs and developing the most rational configurations of crushing and classifying.
The principles of cooperation with customers, based on an individual approach to solving the most complex production problems, constantly give the positive results, strengthening the image of MP TECHPRIBOR as a reliable business partner that can not only offer, but also realize the most daring projects.
Patents and Certificates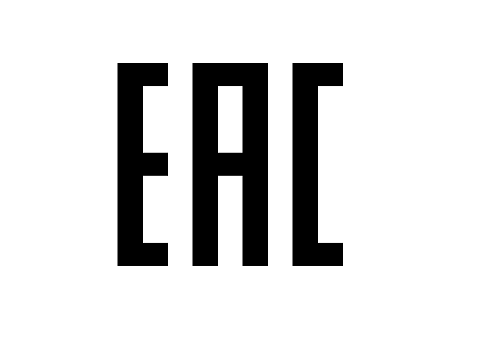 Rotary crushers of WADER series comply with the requirements of Technical Regulation of Customs Union TR CU 010/2011 "On Safety of Machines and Equipment". (Declaration of conformity EAES No. RU Д-RU.МО10.В.06278 dated. 23.03.2018.)
The rotary crashers of WADER model were awarded with the diploma of "100 Best Goods of Russia" program in 2014.